MacBook Air (M1, 2020) vs. MacBook Air (Intel, 2020) - Detailed Specs Comparison
Here is a side by side comparison between MacBook Air (M1, 2020) and MacBook Air (Intel, 2020) specs including CPU, RAM, storage, battery, display, and more.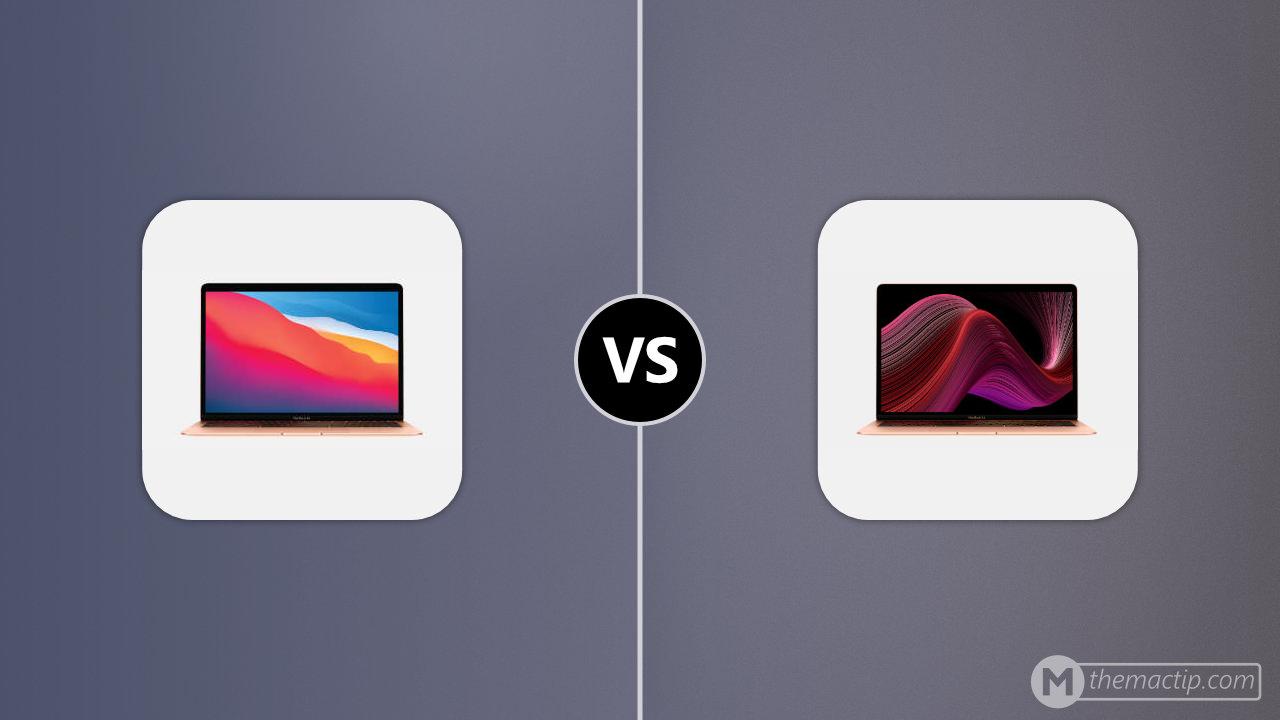 The MacBook Air (M1, 2020) features the 10W Apple M-Series ARM 64-bit 8-core Apple M1 (7 GPU Cores) up to 8-core Apple M1 with a clock speed of 3.20 GHz. While the MacBook Air (Intel, 2020) features the 9W 10th Generation Intel Ice Lake dual-core Intel Core i3-1000NG4 up to quad-core Intel Core i7-1060NG7 with the boost speed up to 3.80 GHz.
If you are in the market looking for a laptop and don't know what's the difference between the 13.3″ MacBook Air (M1, 2020) and the 13.3″ MacBook Air (Intel, 2020) , we have a detailed tech specs comparison between both devices for you to check out here.
MacBook Air (M1, 2020) vs. MacBook Air (Intel, 2020): Specs Comparison
Compare With

Please enter device name or part of it

MacBook Air (M1, 2020)

Compare With

Please enter device name or part of it

MacBook Air (Intel, 2020)

Key Features
What's new

Better Performance

With the new Apple M1 Chip, it now 3x times faster in exporting a project in iMovie, 5x times faster applying 3D effects in Final Cut Pro, editing multiple streams 4K ProRes video in Final Cut Pro with no frame drop, 2x times faster in exporting photos in Lightroom, and more.

Better Battery Life

It's a MacBook Air with the longest battery life ever made, with up to 18-hours of watching movies and 15 hours of web browsing.

Better FaceTime HD camera

With the latest Apple Image Single Processor (ISP) in the M1 chip, image quality is better in noise reduction, greater dynamic range, and improved auto white balance.

Better Display

It now supports P3 wide color with 400-nits of display brightness.

More

Supports latest USB 4
Supports latest Wi-Fi 6
Better security with new Secure Enclave in M1 chip

New Magic Keyboard

Featuring a new Magic Keyboard with a refined scissor mechanism that delivers 1mm of key travel and a stable key feel, as well as an Apple-designed rubber dome that stores more potential energy for a responsive key press.

Double the Storage

The 2020 models now come with double the storage of the previous generation starting at 256GB up to 512GB. It can be also configured to even more storage up to 2TB SSD.

Better Performance

It now comes with the 10th Gen Intel Ice Lake processors with Turbo Boost speed of up to 3.8GHz. The integrated Intel Iris Plus Graphics also gain 80 percent than the previous generation.

More and Faster Memory

The new 2020 models come with 8GB of 3733 LPDDR4X memory and can be configured up to 16GB.

Built-in Security and Privacy

With the Apple T2 Security Chip, Apple's own custom-designed second-generation silicon, MacBook Air checks that software loaded during the boot process has not been tampered with and provides on-the-fly data encryption for everything stored on the SSD.

More

A three-mic array for more clear voice capture for FaceTime calls.
The industry-best Force Touch trackpad for precise cursor control and multi-touch navigation.
Thunderbolt 3 ports for data transfer, charging and video output in a single connector.
Support for up to a 6K external display, a first for MacBook Air.
Advanced stereo speakers for immersive and wide stereo sound.

What's missing

Supports only one extended [email protected] display, while the older Intel version supports up to two [email protected]
Not supports for external Thunderbolt-3 enabled graphics processors (eGPUs).
Availability
MacBook Air (M1, 2020)
MacBook Air (Intel, 2020)
Released
2020
2020
Release Info
Announced on November 10th, 2020

Announced on March 18th, 2020
Available on March 18th, 2020

Pricing

$999

Apple M1 Chip (7 cores GPU) | 8GB RAM | 256GB SSD

$1,249

Apple M1 Chip (8 cores GPU) | 8GB RAM | 512GB SSD

$999 - Intel Core i3 | 8GB RAM | 256GB SSD
$1,299 - Intel Core i5 | 8GB RAM | 512GB SSD
MacBook Air (M1, 2020) Price

2020 Apple MacBook Air Laptop: Apple M1 Chip, 13" Retina Display, 8GB RAM, 256GB SSD Storage, Backlit Keyboard, FaceTime HD Camera, Touch ID. Works with iPhone/iPad; Silver

Late 2020 Apple MacBook Air with Apple M1 Chip (13.3 inch, 8GB RAM, 256GB SSD) Space Gray (Renewed)

Apple MacBook Air with Apple M1 Chip (13-inch, 16GB RAM, 256GB SSD Storage) - Space Gray (Latest Model) Z124000FK

MacBook Air (Intel, 2020) Price

Early 2020 Apple MacBook Air with 1.1 GHz Intel Core i5 (13 inch, 8GB RAM, 512GB SSD) Space Gray (Renewed)

Apple Macbook Air Early 2020 13.3 inch - Core i5, 8GB RAM, 256GB SSD - Space Gray (Renewed)

2017 Apple MacBook Air with 1.8GHz Intel Core i5 (13-inch, 8GB RAM, 128GB SSD Storage) (Renewed)
Display
MacBook Air (M1, 2020)
MacBook Air (Intel, 2020)
Size
13.3 Inches
13.3 Inches
Info
Retina display

13.3-inch (diagonal) LED-backlit display with IPS technology; 2560-by-1600 native resolution at 227 pixels per inch with support for millions of colors
Supported scaled resolutions:

1680 by 1050
1440 by 900
1024 by 640

16:10 aspect ratio
400 nits brightness
Supports wide color (P3)
True Tone technology

Retina display

13.3-inch (diagonal) LED-backlit display with IPS technology; 2560-by-1600 native resolution at 227 pixels per inch with support for millions of colors
Supported scaled resolutions:

1680 by 1050
1440 by 900
1024 by 640

16:10 aspect ratio
True Tone technology
Exterior
MacBook Air (M1, 2020)
MacBook Air (Intel, 2020)
Size Comparison
Dimensions

Width: 11.97 inches (30.41 cm)
Depth: 8.36 inches (21.24 cm)
Height: 0.16–0.63 inch (0.41–1.61 cm)

Width: 11.97 inches (30.41 cm)
Depth: 8.36 inches (21.24 cm)
Height: 0.16–0.63 inch (0.41–1.61 cm)

Weight
Starting at 2.8 pounds (1.29 kg)
Starting at 2.8 pounds (1.29 kg)
Colors
Keyboard and Trackpad
Backlit Magic Keyboard with:

78 (U.S.) or 79 (ISO) keys including 12 function keys and 4 arrow keys in an inverted-T arrangement
Ambient light sensor
Force Touch trackpad for precise cursor control and pressure-sensing capabilities; enables Force clicks, accelerators, pressure-sensitive drawing, and Multi-Touch gestures

Backlit Magic Keyboard with:

78 (U.S.) or 79 (ISO) keys including 12 function keys and 4 arrow keys in an inverted-T arrangement
Ambient light sensor
Force Touch trackpad for precise cursor control and pressure-sensing capabilities; enables Force clicks, accelerators, pressure-sensitive drawing, and Multi-Touch gestures

Ports
Two Thunderbolt / USB 4 (USB‑C) ports with support for:

Charging
DisplayPort
Thunderbolt 3 (up to 40Gb/s)
USB 3.1 Gen 2 (up to 10Gb/s)

Two Thunderbolt 3 (USB‑C) ports with support for:

Charging
DisplayPort
Thunderbolt (up to 40Gb/s)
USB 3.1 Gen 2 (up to 10Gb/s)
Internal Specs
MacBook Air (M1, 2020)
MacBook Air (Intel, 2020)
Processor

Apple M1 (7 GPU Cores)

8 cores, 8 threads, 3.20 GHz, 10W

Apple M1

8 cores, 8 threads, 3.20 GHz, 10W

10th Gen Intel® Core™ i3-1000NG4

2 cores, 4 threads, 1.10 → 3.20 GHz, 4MB SmartCache, 9W

10th Gen Intel® Core™ i5-1030NG7

4 cores, 8 threads, 1.10 → 3.50 GHz, 6MB SmartCache, 10W

10th Gen Intel® Core™ i7-1060NG7

4 cores, 8 threads, 1.20 → 3.80 GHz, 8MB SmartCache, 10W

Integrated Graphics

Apple M1 (7 GPU Cores)

Apple M1 iGPU

7 Graphics Cores, 1280 MHz

Apple M1

Apple M1 iGPU

8 Graphics Cores, 1280 MHz

10th Gen Intel® Core™ i3-1000NG4

Intel® Iris® Plus Graphics

48 Execution Units, 300 → 900 MHz

10th Gen Intel® Core™ i5-1030NG7

Intel® Iris® Plus Graphics

64 Execution Units, 300 → 1050 MHz

10th Gen Intel® Core™ i7-1060NG7

Intel® Iris® Plus Graphics

64 Execution Units, 300 → 1100 MHz

Memory

4266 MHz LPDDR4X onboard memory
Configurable to 16GB

Configurable to 16GB 3733MHz LPDDR4X onboard memory
Storage

SSD
Configurable to 1TB or 2TB

Configurable to 1TB and 2TB SSD
Connectivity
MacBook Air (M1, 2020)
MacBook Air (Intel, 2020)
Wi-Fi

802.11ax Wi‑Fi 6 wireless networking
IEEE 802.11a/b/g/n/ac compatible

802.11ac Wi‑Fi wireless networking
IEEE 802.11a/b/g/n compatible

Bluetooth
Bluetooth 5.0 wireless technology
Bluetooth 5.0 wireless technology
Battery
MacBook Air (M1, 2020)
MacBook Air (Intel, 2020)
Size
49.9 Wh lithium‑polymer battery
49.9 Wh lithium‑polymer battery
Battery Life

Up to 15 hours wireless web
Up to 18 hours Apple TV app movie playback

Up to 11 hours wireless web
Up to 12 hours Apple TV app movie playback
Up to 30 days of standby time

Power Supply
30W USB‑C Power Adapter
30W USB‑C Power Adapter
Software
MacBook Air (M1, 2020)
MacBook Air (Intel, 2020)
OS
Shipped with macOS Big Sur
Shipped with macOS Catalina
Built-in Apps

Photos

iMovie

GarageBand

Pages

Numbers

Keynote

Siri

Safari

Mail

FaceTime

Messages

Maps

News

Stocks

Home

Voice Memos

Notes

Calendar

Contacts

Reminders

Photo Booth

Preview

Music

Podcasts

TV

Books

App Store

Time Machine

Find My

QuickTime Player

Photos

iMovie

GarageBand

Pages

Numbers

Keynote

Siri

Safari

Mail

FaceTime

Messages

Maps

News

Stocks

Home

Voice Memos

Notes

Calendar

Contacts

Reminders

Photo Booth

Preview

Music

Podcasts

TV

Books

App Store

Time Machine

Find My

QuickTime Player
Camera & Audio
MacBook Air (M1, 2020)
MacBook Air (Intel, 2020)
Camera
720p FaceTime HD camera
720p FaceTime HD camera
Audio

Stereo speakers
Wide stereo sound
Support for Dolby Atmos playback
Three-mic array with directional beamforming
3.5 mm headphone jack

Stereo speakers
Wide stereo sound
Support for Dolby Atmos playback
Three-mic array with directional beamforming
3.5 mm headphone jack
Misc
MacBook Air (M1, 2020)
MacBook Air (Intel, 2020)
Sensors

Touch ID sensor
Ambient light sensor

Touch ID sensor
Ambient light sensor

Security

Touch ID sensor
Apple T2 Security Chip

Touch ID sensor
Apple T2 Security Chip

In the box

MacBook Air
30W USB‑C Power Adapter
USB-C Charge Cable (2 m)

MacBook Air
30W USB‑C Power Adapter
USB-C Charge Cable (2 m)

Warranty
Your MacBook Air comes with 90 days of complimentary technical support and a one-year limited warranty. Purchase AppleCare+ to extend your coverage to three years from your AppleCare+ purchase date and add up to two incidents of accidental damage coverage, each subject to a service fee of $99 for screen damage or external enclosure damage, or $299 for other repairable damage, plus applicable tax.
Your MacBook Air comes with 90 days of complimentary technical support and a one-year limited warranty. Purchase AppleCare+ to extend your coverage to three years from your AppleCare+ purchase date and add up to two incidents of accidental damage coverage, each subject to a service fee of $99 for screen damage or external enclosure damage, or $299 for other repairable damage, plus applicable tax.
More
Video Support

Simultaneously supports full native resolution on the built-in display at millions of colors and:

One external display with up to 6K resolution at 60Hz

Thunderbolt 3 digital video output

Native DisplayPort output over USB‑C
VGA, HDMI, DVI, and Thunderbolt 2 output supported using adapters (sold separately)

Video Support

Simultaneously supports full native resolution on the built-in display at millions of colors and:

One external 6K display with 6016-by-3384 resolution at 60Hz at millions of colors, or
One external 5K display with 5120-by-2880 resolution at 60Hz at millions of colors, or
Up to two external 4K displays with 4096-by-2304 resolution at 60Hz at millions of colors

Thunderbolt 3 digital video output

Native DisplayPort output over USB‑C
VGA, HDMI, DVI, and Thunderbolt 2 output supported using adapters (sold separately)
MacBook Air (M1, 2020) Price

2020 Apple MacBook Air Laptop: Apple M1 Chip, 13" Retina Display, 8GB RAM, 256GB SSD Storage, Backlit Keyboard, FaceTime HD Camera, Touch ID. Works with iPhone/iPad; Silver

Late 2020 Apple MacBook Air with Apple M1 Chip (13.3 inch, 8GB RAM, 256GB SSD) Space Gray (Renewed)

Apple MacBook Air with Apple M1 Chip (13-inch, 16GB RAM, 256GB SSD Storage) - Space Gray (Latest Model) Z124000FK

MacBook Air (Intel, 2020) Price

Early 2020 Apple MacBook Air with 1.1 GHz Intel Core i5 (13 inch, 8GB RAM, 512GB SSD) Space Gray (Renewed)

Apple Macbook Air Early 2020 13.3 inch - Core i5, 8GB RAM, 256GB SSD - Space Gray (Renewed)

2017 Apple MacBook Air with 1.8GHz Intel Core i5 (13-inch, 8GB RAM, 128GB SSD Storage) (Renewed)
Popular Comparisons for MacBook Air (M1, 2020)
Here are the most frequently requested comparisons for MacBook Air (M1, 2020):
Popular Comparisons for MacBook Air (Intel, 2020)
Here are the most frequently requested comparisons for MacBook Air (Intel, 2020):