MacBook Pro 13-inch (2017): The Best Accessories for 2020
Are you looking for 2017 MacBook Pro 13" accessories? Check out our best pick accessories for your new MacBook Pro 13-inch (2016 and 2017 edition) to get the best protection, entertainment, and productivity.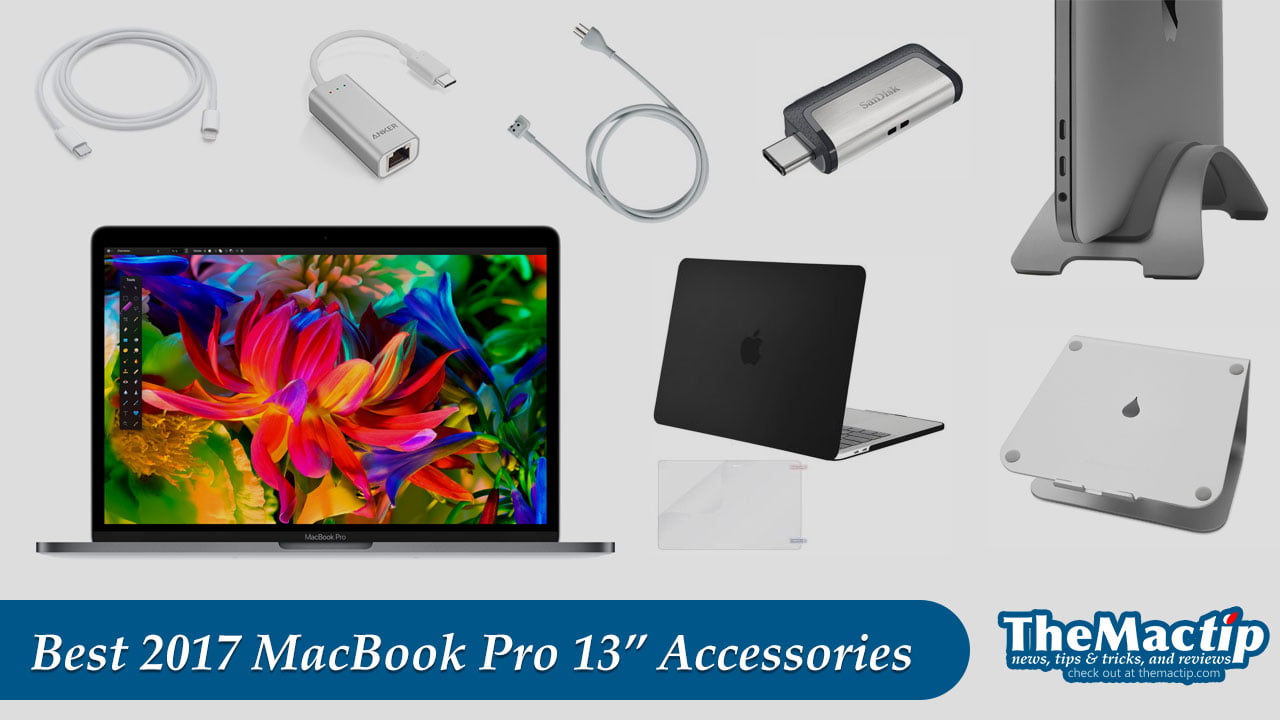 The new Apple's 2016 MacBook Pro completely changes the overall design including taking out all legacy ports you found on its previous generation. It now comes with only USB-C in a variant of 2 ports or 4 ports depending on what model you choose.
In this situation, you definitely need some accessories that allow you to connect your devices to your new MacBook Pro. Here are the best 2016 and 2017 MacBook Pro 13-inch accessories you can buy to make your life easier.
Best Accessories for 2017 MacBook Pro 13-Inch

1. Apple USB-C to USB Adapter

2. Apple MK0X2AM/A USB-C to Lightning Cable (1M)

3. Anker USB C to Ethernet Adapter, USB C to Gigabit Ethernet Adapter, Aluminum Portable USB C Adapter, for MacBook Pro, MacBook Air 2018 and Later, iPad Pro 2018 and Later, XPS, and More

4. Apple Power Adapter Extension Cable (for MacBook Pro, MacBook, MacBook Air)

5. MOSISO Compatible with MacBook Pro 13 inch Case 2020 2019 2018 2017 2016 Release A2338 M1 A2289 A2251 A2159 A1989 A1706 A1708, Plastic Hard Shell&Keyboard Cover&Screen Protector&Pouch, Space Gray

6. Rain Design 10032 mStand Laptop Stand, Silver (Patented), Ergonomic Aluminum Computer Riser for Office or Home Desk Setup, Compatible with MacBook Air Pro

7. Twelve South BookArc for MacBook | Space-Saving Vertical Desktop Stand for Apple notebooks (Space Grey)

8. Satechi USB-C Power Meter Tester Multimeter - Compatible with 2020/2019 MacBook Pro, 2020/2018 MacBook Air, 2020/2018 iPad Pro

9. SanDisk 128GB Ultra Dual Drive USB Type-C - USB-C, USB 3.1 - SDDDC2-128G-G46

10. Apple Magic Mouse 2 (Wireless, Rechargable) - Silver
Comments (0)